The Gamester
by Susanna Centlivre
December 1, 2, 6, 8 and 9, 2001
---
Cast:
---
Male Roles:
Box Keeper
Ross Brown
Valere
Jeremiah Burt
Galoon
David Crawford
Hector
Erich Dorzab
Count Cogdie
Dennis Huynh
Lovewell
Lance Ivy
Mr. Demurr
Lorin Koch
1st Gentleman
Jarrod Lima
Marquis of Hazard
Adam Lombard
Dorante
Bradley Nelson
2nd Gentleman
Fitch Venckeleer
Sir Thomas Valere
Tyler Webster
Porter
Kris Wilson


Female Roles:
Mrs. Security
Megan Daly
Betty
Nicole Ferguson
Angelica
Lindsey Lombard
Mrs. Topknot
Lorilea Mitchell
Maid
Cheri Rutan
Favourite
Erica Sharp
Lady Wealthy
Kristin Smith


Crew:
Director
LuAnn Venden Herrell
Stage Manager
Dan Lounsbury
House Manager
Elizabeth Bruch
Assistant Directors
Elizabeth Bruch
Lindsey Lombard
Cherie Rutan
Erica Sharp
Lighting Design
Erich Dorzab
Lighting/Sound
Lorin Koch
Peter Hollister
Emily Yeo
Stage Design
Martha Mason (WWC Art Department)
Chief Costumer
Stephanie Binns

Costumers
Elizabeth Bruch
Kurt Drechsel
Mari Ferguson
Cherie Rutan
Wardrobe Mistress
Megan Daly
Scenic Artist
Martha Mason (WWC Art Department)
Set Foreman and Design
Dr. Roy Campbell (WWC Physics Department)
Set Construction
Jeremiah Burt
John Campbell
Erich Dorzab
Andrea Dorzab
Jerry Entze
Bradley Nelson
Adam Lombard
Dan Lounsbury
Music Consultant
Dr. Kraig Scott (WWC Music Department)
Box Office
Doug Taylor
Adam Lombard>
Program and Poster Design
Tara Twing
Public Relations
Bradley Nelson
---
Photos:
---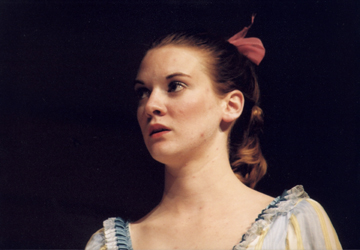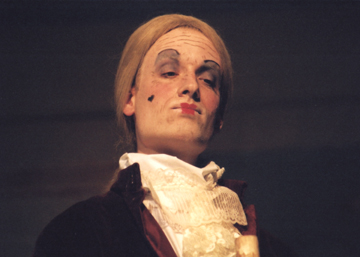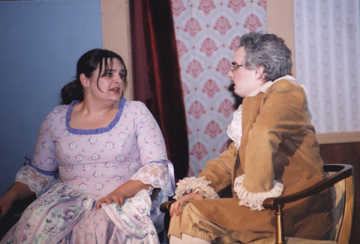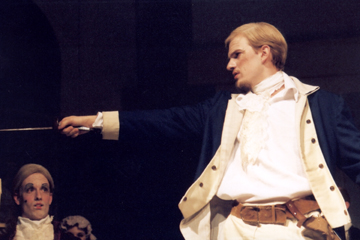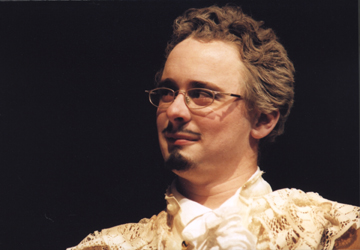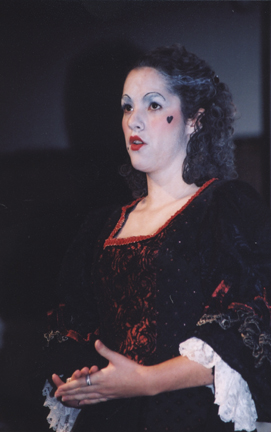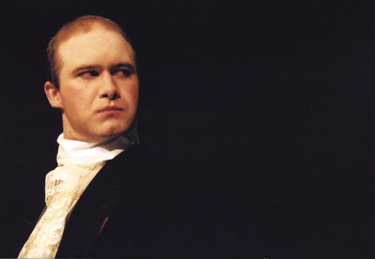 Rehearsal photos by Amanda Gibson
---
About the Play:
---
The Gamester was eighteenth-century woman dramatist Susanna Centlivre's first commercial success in 1705. It was written at the height of the Collier stage controversy--a widespread movement led by cleric Jeremy Collier for stage reform, in reaction to the sensational plays of the Restoration era. The play is one of the first iof a genre now known as "reform comedies": sometimes uneasily occupying middle ground between the earlier racy comedies of wit and the gentler sentimental comedies of the late 18th century; this type of play usually employs gentle satire and physical humor in an attempt to teach a social lesson. This approach is quite similar to hogarth's series of engravings entitles "The Rake's Progress." Many dramatists in the period 1698-1712 argued that the stage was a legitimate vehicle of presenting cautionary tales in a format that is both easily grasped and long remembered.
Centlivre, author of more than 16 plays, was in her time one of the most popular of dramatists. In terms of number of performances alone, her plays enjoyed longer runs than those of her now more familiar contemporaries Dryden, Congreve, Cibber, and sheridan; her works were included more often in the working reportories of the London companies. Her critical reputation was built on her skill at taking stock characters and situations and breathing new life and subtlety into them.
In the case of The Gamester, the play is a typical reform comedy that focuses on the necessary reclamation of a young nobleman who must be convinced of the dangers of gambling. What is not typical is the graphic illustration of everyone who must be convinced of the dangers of gambling. What is not typical is the graphic illustration of everyone who comes in contact with Valere is affected by his addiction, no matter their rank, gender, or philosophical outlook. His gambling causes a "ripple effect" that spreads outward, causing every other character to commit offenses against social station, manners, or morals. Also unusual is the method of Valere's reclamation: his fiancee', Angelica. She is an intelligent, sprightly agent of reform who brings Valere back within the boundaries of good society by the use of witty repartee and cunning masquerade.
---
November 29 Collegian Article
November 29 Collegian Review
November 23 Union-Bulletin Review (no longer available)
November 28 Review by Sarita McCaw
View the Poster (designed by Tara Twing)
---
Back to Drama History Page

last modified 25 June 03 by Bradley Nelson
Copyright &copy 2003 wwcdrama -- all rights reserved